We met six Los Angeles-based creatives, part of a new wave that is shaking up the fashion and entertainment industries.
Hidden behind a piece of cloth, Greg Ross doesn't show his face. But through his work, he becomes visible. The cottons are heavy, the edges raw, the colors washed-out, the shoulders exaggerated. Here, there, utilitarian, lace-up, padded or knotted details. Everything is carefully thought, engineered. Greg reconciles the casual and the luxurious, the comfortable and the refined, the loose and the rigorous. Since 2015, the designer has been lending his creative vision to Yeezy. An experience that gave him the tools and the guts to found his own label.
When did your journey with fashion begin?
I went to college for art and I started studying and doing fashion stuff in 2013. But when I was in high school, I was already really into clothes, buying things and looking up new designers.
What's your relationship with vintage fashion? I know you have a passion for it.
I was raised into vintage a lot. My mom is an antique collector and I was always going with her to different vintage shops, especially along the coast, in Ventura or Santa Barbara. We would go there to shop for antiques and I would always end up picking up random clothes. I always wanted really dirty looking clothes for some reason, I've always been really attracted to that. So since I was maybe 11, I've always been buying used clothes to wear. That's probably where it started. Then, when I got picked out by Kanye, it became my job to find vintage stuff.
You've just mentioned Kanye. When he comes with a new silhouette or a new product that is considered disruptive, it always provokes negative reactions at first, and then everyone adopts it. Do you feel like you help rethink and reshape the consensual vision of beauty?
Yeah, I think so a lot. Especially when I first started, a lot of the things that I was bringing to the table at Yeezy became really big trends, because it was all going through the filter and the point of view of Kanye, so it was being projected so widely.
What have you learned from being mentored by Kanye?
Probably everything and anything I could possibly really want to know because I feel like when you work with Kanye, you get this really big perspective, really quickly. There are also really powerful fashion people that you have to end up working with and all these new talents that he wants to bring in. It's like a crazy boot camp of learning fashion and he puts you where he thinks you're the best. I didn't start as a stylist or somebody that helped build images. One of the best things I learned from Kanye was where I fit in with fashion because I think I wasn't really prepared for after college. And I went to him directly. He found me right after I graduated. I think I had the summer off and then in September, I started working for him. So I just had this crazy crash course on fashion through Kanye. He made me figure out collections, it didn't matter how much experience I had. That's helped me a lot. Now I'm really good at working under pressure and figuring things out when there's not a lot of resources. I made my first collection in a month, and it came out looking so much bigger and more developed than it was. I think that comes from working for Yeezy.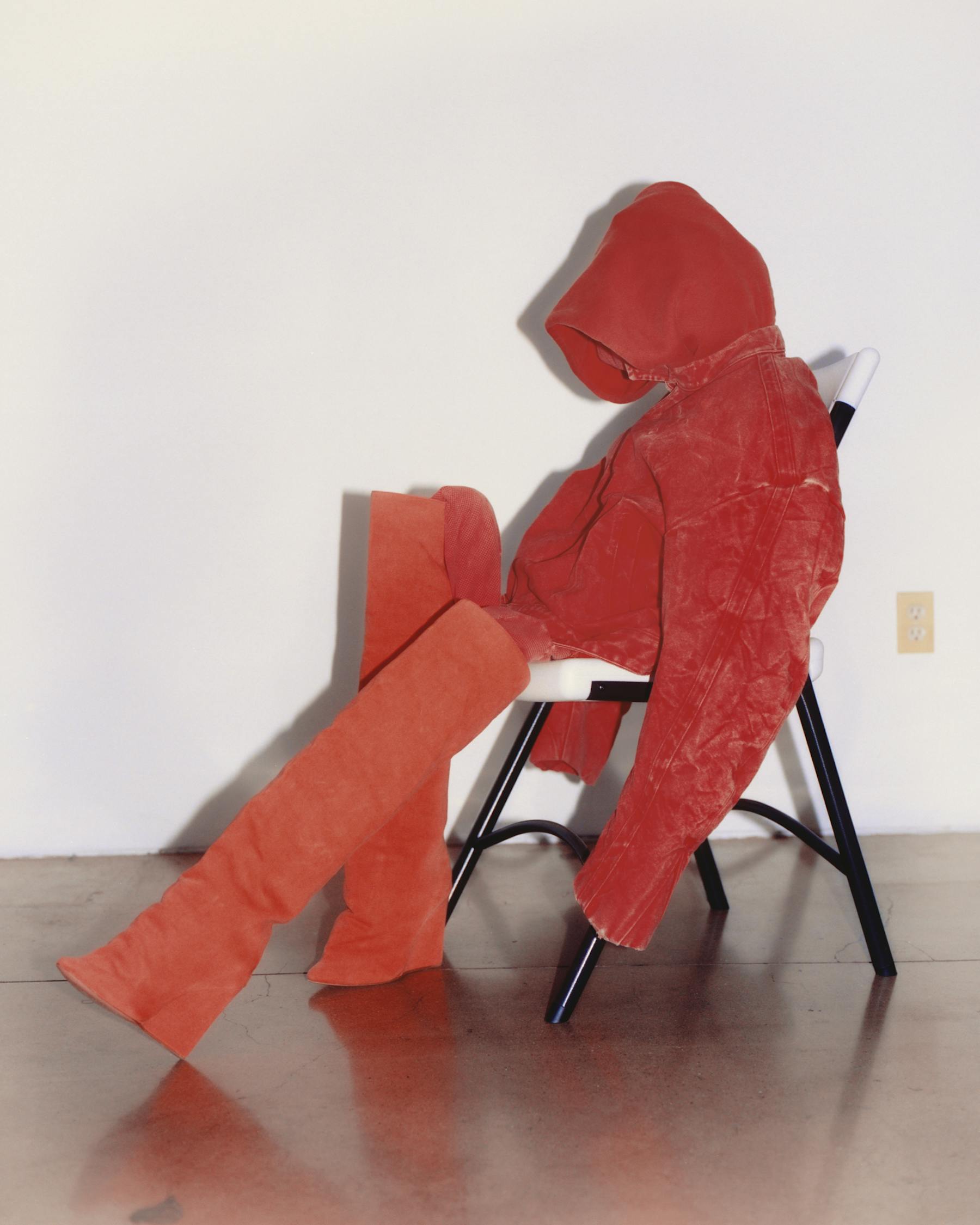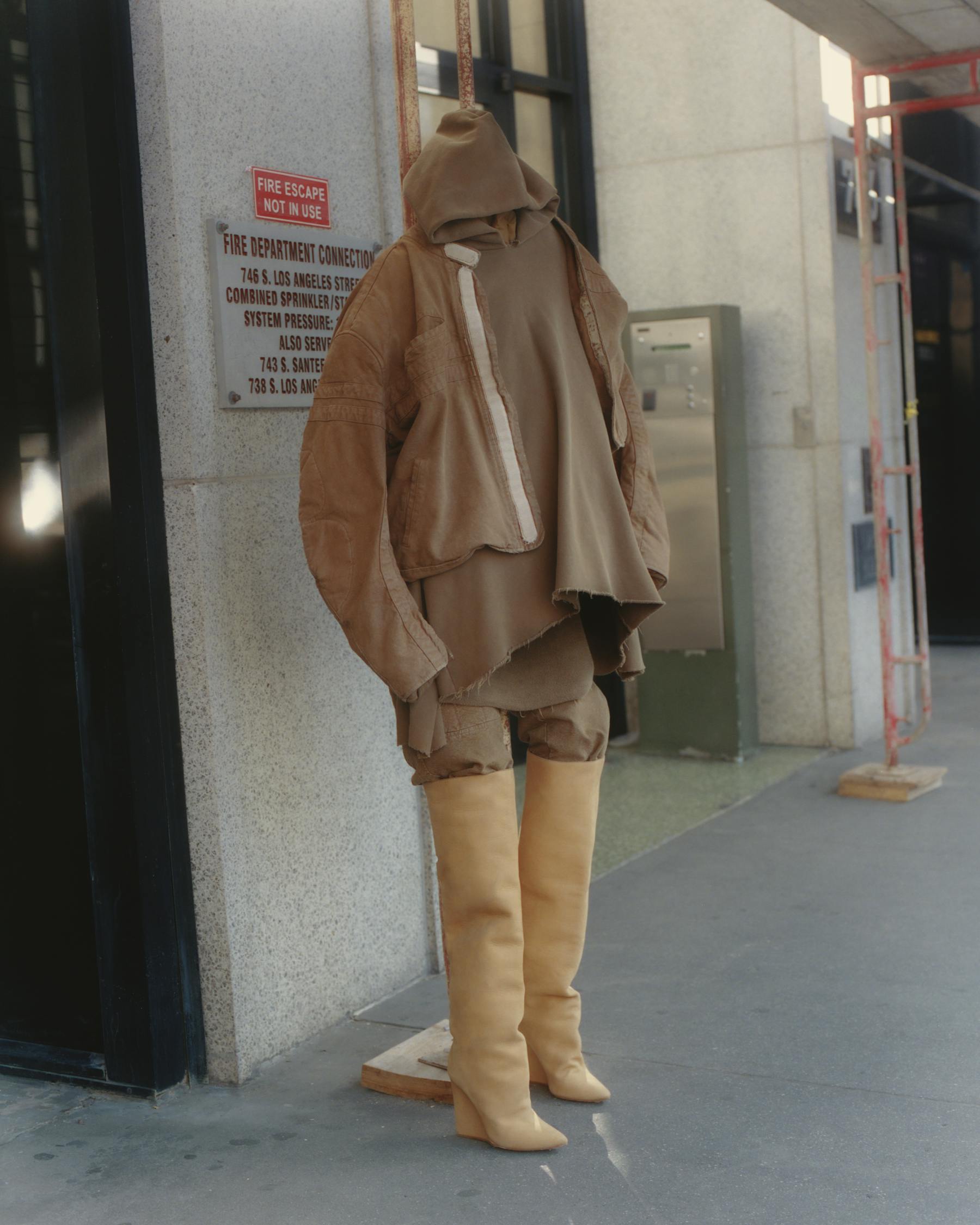 Kanye is so good at seeing the potential in people.
He's really good at picking someone out. I think there's a moment when he assesses you and figures out what you're good at. For me, that was design, color and finding things for him to wear. Because he liked a lot of my clothes. He liked what I wore when I showed up to work. I have this thing where I like to make a lot of stuff out of vintage clothes. I reworked a lot of vintage for myself to wear, like hoodies or t-shirts, and then it became something for him to wear.
Let's talk about your own brand. But first of all, why can't we still buy your designs? I want to buy them!
It's been really hard to figure out how I was going to sell them and how I was going to launch them. I work a lot and I have moments off and breaks, but it's just a lot. I feel like I've been under a lot of stress the past four months especially. But now I'm getting in a place where I can figure out how to really sell this in the best way. I also don't want to offer people a shitty product. I really want people to value my clothes and feel that I didn't want to do anything too quickly.
Is it important for you to be able to create at your own pace?
Yeah, definitely. I'm very stubborn and you can't really force me to do something. With creating stuff, I'm always waiting for something to click with me and then I push it all out, because I feel like I'm very intuitive. I don't do something that doesn't feel right, even if it's something that someone's telling me is good for me. If I don't feel like it's good for me, I won't do it.
So you don't intend to follow the Fashion Week's official calendar for example?
I feel like it depends on which route I go, especially with potential investors - if they want that, I can do that. I'm actually working towards releasing in late September and then the second collection will go to sale quicker than the first one. I would probably just do two seasons a year. I don't want to do more. I feel like there are too many clothes coming out, it gets annoying, it's too much. I think it's getting to a point where people are not valuing fashion the way they did the past few years.
It's because of social media. People feel the need to show different outfits all the time.
All the time. And everything is a set. I don't want to come off like that at all.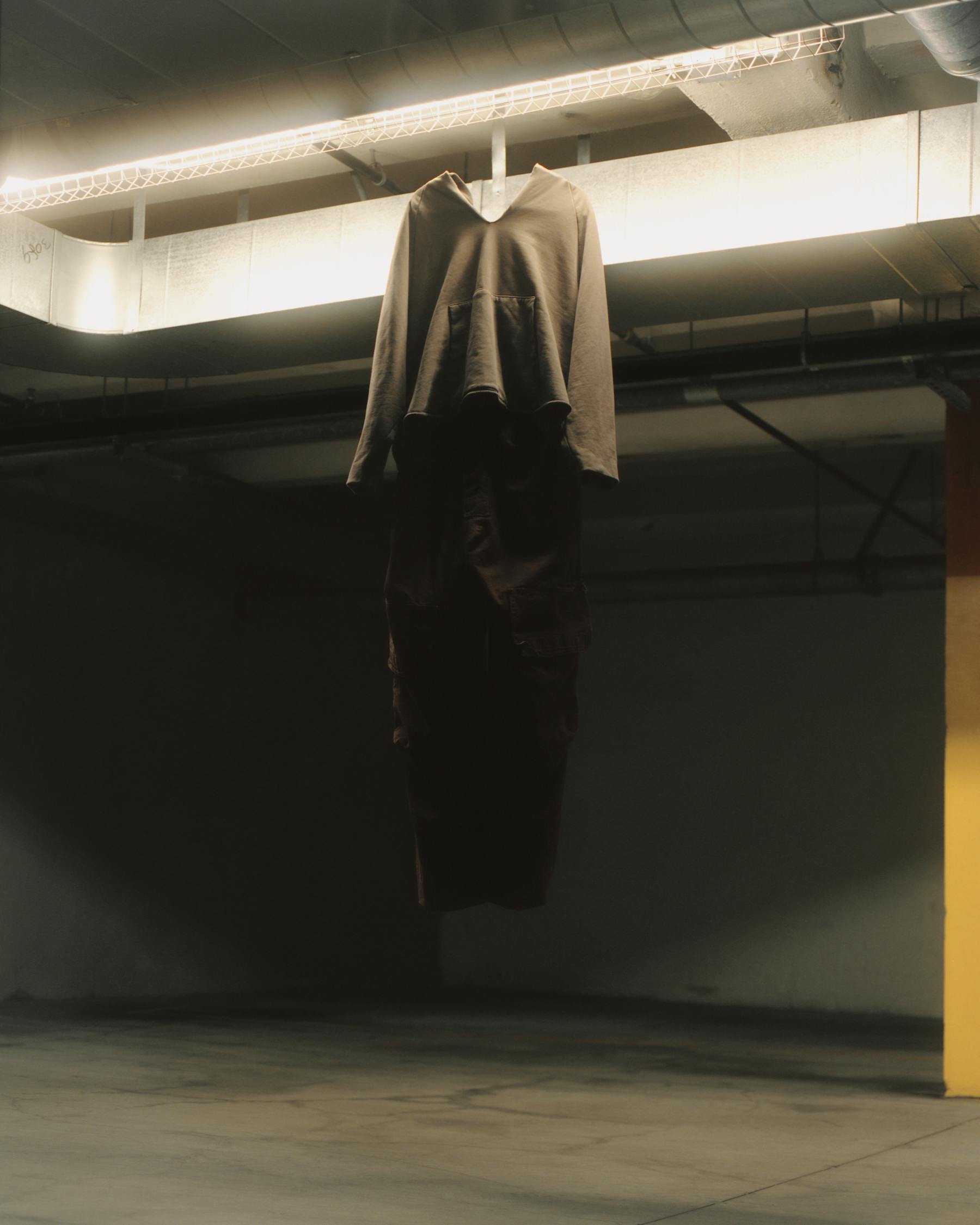 How would you describe your aesthetic universe?
I think my aesthetic universe is really focused on silhouette - there's always gonna be a massive silhouette -, texture and color. I don't feel like I have a theme. I couldn't say you're gonna get motorcycle vibes from me every season, although that's something I started with. I don't really have this narrative that a lot of brands have. I really just do what I think looks good, and what I'm feeling for. If I like some random things, like an apron at a cooking store, the apron gonna be in the collection somehow.
You just listen to your instinct.
Yeah. All the pieces are based off of things that I like, things I wear all the time - not the women's pieces I mean, but the jackets and pants. Through all the collections, people are going to have a piece of me. It's like getting to know me through the clothes, which is why I'm very focused on detail. I'm also an American Californian designer and I think you get that from the washes, the colors, the textures, the vibes and the ribs.
What feeds your creativity and ideas?
Honestly, mostly surroundings. And a lot of memories. Throughout the day, I'll get random things in my head that I'll focus on for a second. I screenshot them as much as I can and that'll somehow end up in the collection. It's kind of hard to explain. My inspirations come from a lot of my surroundings and a lot of things that I find comfortable. Like with color. I feel like a lot of the colors I use are things that bring a feeling to me. Although blues are really specific and are based off of screenshots on my phone. This one is from a place in Malibu at night. This color is a hill in Calabasas, so I just called it Hills. This color is Coffee Bean because it's coffee bean. And then the red is from Akira, my favorite movie. It's a beautiful color reference movie.
I remember you also posted on Instagram a pale yellow, almost butter, sweatshirt, next to a construction site.
Yeah, the Artificial Yellow. Like I was saying, a lot comes from my surroundings. And I think growing up in California is perfect for that, because everything is so shown in natural light.
What are you the most proud of?
I'm the most proud of my first collection because it was a big struggle for me to really put something out like that. I'm also proud that this first collection is a statement of where it comes from. It's the beginning of Greg Ross and a good first look at it. I'm just really proud that I was able to put images out that were 100% me. I love Noah Dillon's photography and he helped me really capture what I wanted to capture. So I'm really just proud that collection is out there. That's my biggest accomplishment.