The portraits on the following pages were part of the exhibition "macro" at Gladstone Gallery Brussels in april 2023. The installation consisted of 10 creatures with glossy painted styrofoam heads on wooden skeletons with metal joints hanging on brown wooden panels measuring 250 by 120 cm.
The portraits were taken with a fujifilm gfx50s ii camera and lighted with an arri skypanel s60-c to obtain maximum sharpness in order to see as much detail as possible.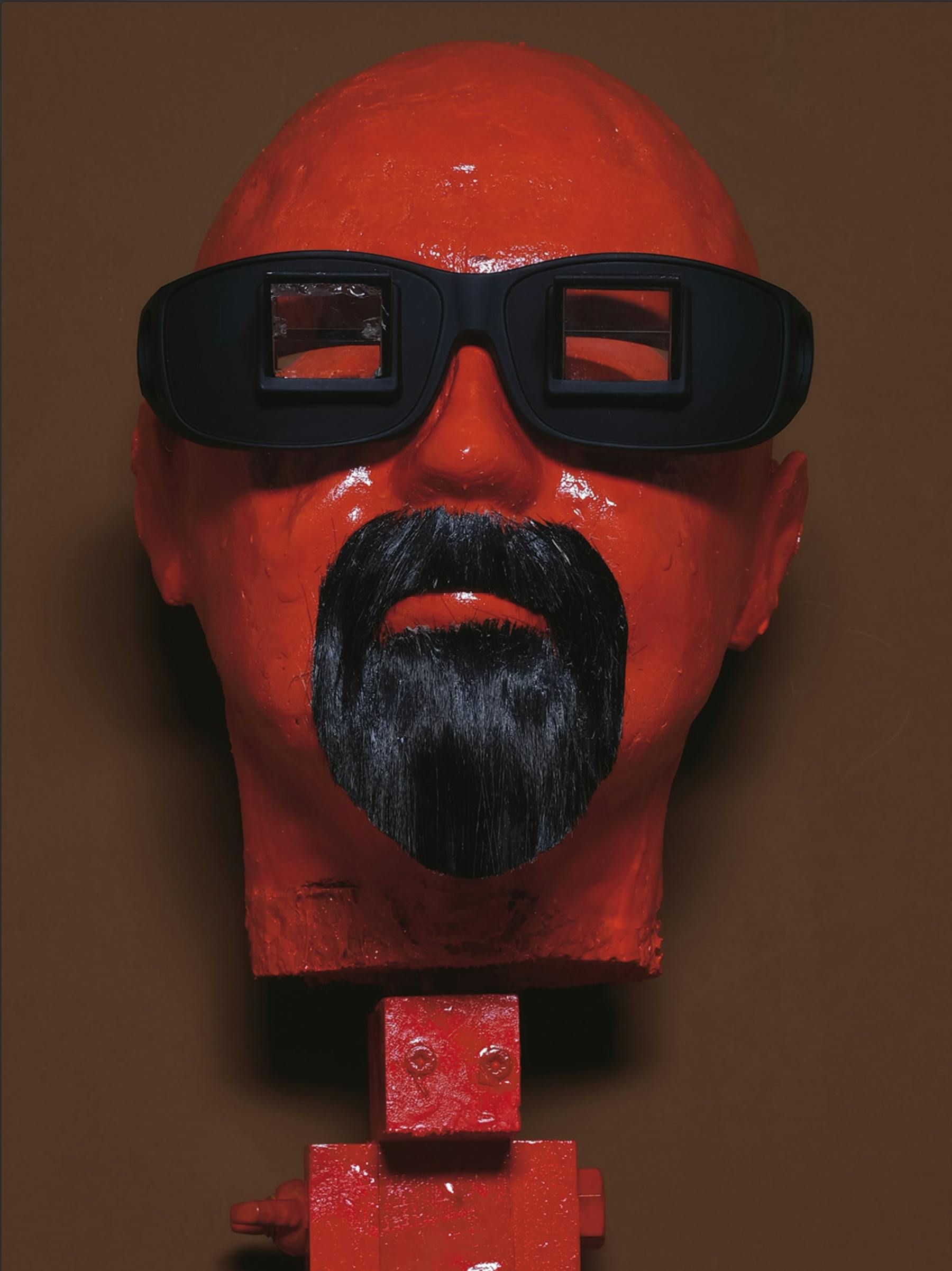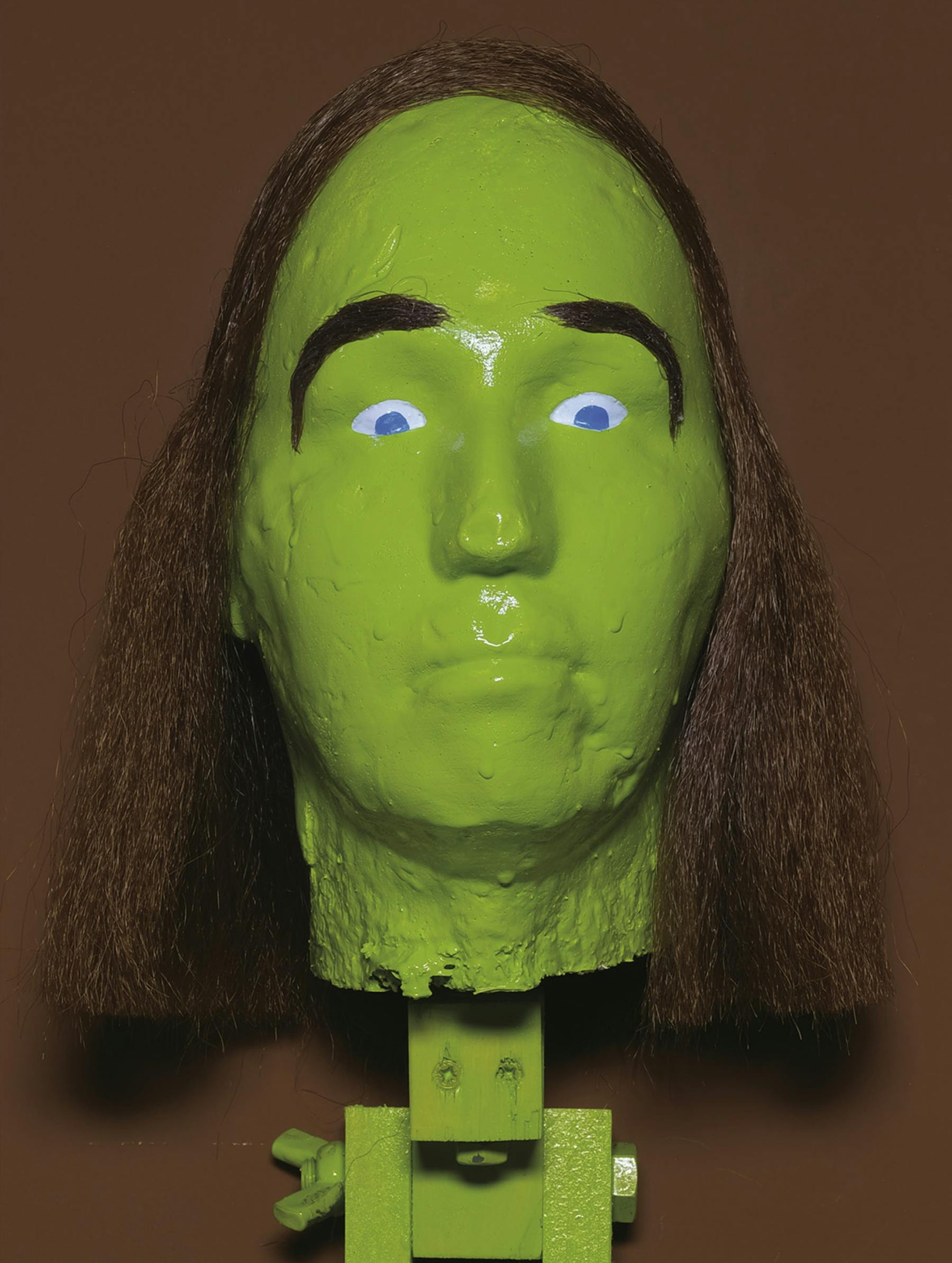 THE KNIFE-GRINDER OF WEXFORD
The Knife-Grinder of Wexford was a respected man. His years of experience meant that he had perfected the art of sharpening such that he was much in demand and enjoyed a certain status. He sharpened for both the farmers and the local aristocracy, and his craftsmanship was generally considered legendary. Hence the story went round that with a knife sharpened by the Knife-Grinder of Wexford one could cut the legs off a horse in a single blow. As he sharpened, the Knife-Grinder of Wexford always whistled the same tune. What people didn't know was that the Knife-Grinder of Wexford led a double life. During the day he did his job with dedication, but at night he wandered the dark streets of Wexford in search of blood. His victims were always attacked suddenly in the dark and beheaded. People started to suspect the Knife-Grinder when an old woman heard someone whistling the Knife-Grinder's tune just before one of the murders. When this became known, the Knife-Grinder of Wexford disappeared without a trace and the murders stopped. Some say that the Knife-Grinder of Wexford fled to America and made his fortune there. Others claim that he had been spotted in London. Whatever the case, the Knife-Grinder's tune is still whistled to scare children in the dark.
AMALIA VON IN DER MAUER
In the year 2010, at the congress center in Klagenfurt, in southern Austria, an important meeting was held. City planners, senior city officials, construction promoters and some foreign investors decided to build a shopping center on the expropriated land around the congress center. More than that, to implement this plan, the construction of an underground parking garage was indispensable. In 2012 after all the architectural plans were approved, excavation work began around the convention center. The entire undertaking was to be completed by 2018. A few weeks after the excavation work began, 3 Romanian brothers who had been employed by the construction firm stumbled upon a wall. The wall appeared to be a remnant of a city wall from the early Middle Ages. The mostly foreign workers, including the 3 Romanian brothers, were ordered to abandon the excavations for nothing. They still remembered the words of their boss. Ihr müsst hier hart arbeiten! Wir dulden keine Verzögerungen! Wer dabei ertappt wird, diesen Befehlen nicht Folge zu leisten, wird sofort entlassen und in sein Herkunftsland zurückgeschickt! Habt ihr das alle verstanden? In haste, demolition of the medieval wall thus began. While drilling, one of the brothers drilled through the skull of a skeleton that appeared to be bricked into the city wall. The 3 brothers stiffened with fear. The same night they left in their van for their village of origin in the Carpathians. They did not share their terrible experience with anyone. Every day they went to the church in the village and prayed for the skeleton whose skull they had pierced. They called her Amalia, Amalia von in der Mauer.
FRITZ ZENDER
Fritz Zender lives in the north of Germany on the ground floor of a new building with a small garden. Fritz Zender is small, 1 meter 55 but also very wiry. If he grabs someone's arm he won't let go. His face contorts and is followed by a tense laugh, loud and sharp, even more frightening than his grip. Fritz Zender has contact with others only through chat groups. Usually his visitors come from Germany, but some Czechs, Poles and even a Vietnamese have already visited him. What they come there to do nobody knows. Fritz Zender has an obsession with "Sauberkeit. In his storeroom there are no less than 4 vacuum cleaners:-1 Dyson, that way, he can view the dust through the transparent housing before removing certain dust particles with disposable gloves and specialized tools to remove and dissect.-1 industrial vacuum cleaner which he has never used but which he is very proud to show to his visitors because it can vacuum both dry and wet.-2 identical small white plastic vacuum cleaners with different attachments and rechargeable battery that he uses several times a day. 2 because this way he does not lose time recharging. Fritz Zender has a large collection of semi sporty shoes. Brown, beige and white. The ritual he uses is always the same. He goes deep with his nose into a shoe, sniffs with trembling lower lip and then he obsessively vacuums the athletic shoe. Fritz Zender also has a large collection of towels and washcloths that are washed at 100 degrees after use (what use, one is left to guess). Guests usually stay inside Fritz Zender's apartment for an hour and then disappear. The Vietnamese apparently stayed inside for 10 hours. From 8 am to 6 pm.